Tagged as: Design
Principle of Least Astonishment
In user interface and software design, the principle of least astonishment states that "if a necessary feature has a high astonishment factor, it may be necessary to redesign the feature." It means that your user interface should behave in a way that the user expects, based on their prior knowledge of how similar interfaces behave.
This is a rant about Mac OS X.
Tags:
0 comments | Permalink
---
RiveScript.com Makeover
I've just spent pretty much the whole day redoing the website for RiveScript.com, and I think it looks pretty nice.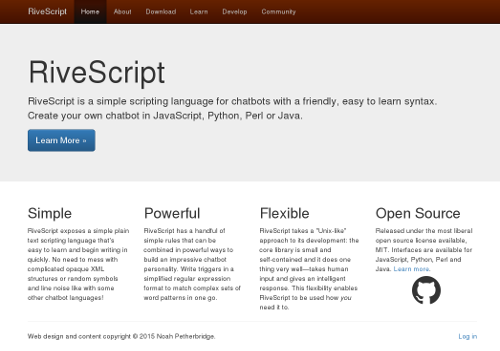 RiveScript.com was the final website on my server that was still running on my legacy PerlSiikir CMS, and it's been on my to-do list for a while to get it migrated over to my new Python CMS, Rophako like what Kirsle.net is currently running on. The old Perl code was clunky and ugly and memory-leaky, and now I'll be at ease if I ever need to migrate to a new web server, as my Python web apps are extremely quick to get up-and-running, whereas it was an hours-long ordeal to get PerlSiikir to run.
So, the bulk of the work actually needed for RiveScript.com was purely front-end. I revamped the whole web design to use Twitter Bootstrap and make it look all hip and edgy like how all the other small software project websites are these days.
Besides the programming language on the back-end, I had other reasons for why I wanted to simplify RiveScript.com: I don't have the motivation or energy to do as much with that site as I did previously.
I used to run a YaBB Forum on RiveScript.com, but it wasn't extremely active and it was getting hit by too many spam bots, so several months ago I shut that down and linked to the RiveScript forum at Chatbots.org.
More recently I had programmed a chatbot hosting service that was on RiveScript.com, but that wasn't very popular either. I know nobody was using it because it had been broken for months and I hadn't heard any complaints. ;) A couple months ago I sunsetted that feature by turning off new site registrations and removing some references to the feature. And now that's officially gone! If you actually had a bot hosted there, contact me and I can get you your bot's reply files back.
So, the new site is simple and minimalistic and is just about the RiveScript language itself. It was an ordeal rewriting all of the pages from scratch (well, most of them) but now that it's done, the site should be very low-maintenance for me.
One of the most fun parts of it was that I ported over my "Try RiveScript Online" page to use JavaScript and run in the browser, whereas the old version had a Perl back-end (because a JavaScript version of RiveScript didn't exist at the time), so that's even one less thing for me to maintain and make sure it doesn't break. :)
And, the front-end pages for the new site are also open source, FWIW.
Tags:
2 comments | Permalink
---
Minecraft Clones
These are just some of my thoughts on things that a Minecraft clone should probably do differently to Mojang's (well, Microsoft's) Minecraft, since a clone would be starting from scratch anyway and would be in a good position to fix some of the fundamental problems in the original game that are impossible/unlikely to be fixed by Microsoft.
Some of the Minecraft clones I'm familiar with so far are Terasology, Minetest, and Michael Fogleman's Craft. So far, Craft seems to do the most things "right" (as far as my list of fundamental improvements on Minecraft go) such as only storing changes to the blocks to disk rather than whole entire chunks, but more on that in a minute.
Disclaimer: I'm not a game developer. I am a software developer and have a particular interest in the technology used in games, i.e. I have the knowledge to write code for most given game mechanics and spend countless hours thinking about these sorts of things. I've read a lot about the technical internals of Minecraft and have read some of the source code to these clones, so this blog post is full of my own educated opinions on things. I may, at some point, take on the challenge of creating a Minecraft clone of my own, but until then these are just the things I've been thinking about over the last several months.
Tags:
3 comments | Permalink
---
Bootstrap
Wanna see a Twitter Bootstrap site that doesn't look like a Bootstrap site? You're looking at one right now!
I've updated the web design for Kirsle.net to use Bootstrap, so now the site is more accessible to mobile browsers. Try resizing the browser window and see how the site reacts. On smaller screens, the left nav bumps to the bottom of the page and a button appears at the top that will scroll straight to the nav bar.
I made a few custom tweaks for my particular design though, because the fixed (non-scrolling) background image and the transparent backgrounds on the panels would cause rendering errors on Firefox for Android. So, when the screen is small enough to switch into "mobile mode", the background image becomes unfixed (so it will scroll away with the rest of the page), and the panels lose their transparent backgrounds.
I've also added a new section to my site where you can see past web designs of Kirsle.net and see how each design was typically an evolution of a prior one.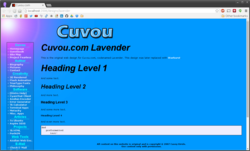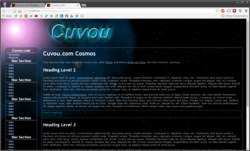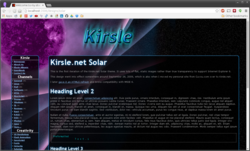 Tags:
0 comments | Permalink
---
Design Refresh
I've made a small "refresh" to the web design on kirsle.net. In short, I've finally brought the design up to speed for the year 2010!
The design looks the same as before, except now, all the see-thru transparent bits in the design, now, are truly see-thru, and now the main background image (with the purplish sun) will stay put while you scroll the page. Also, the blue borders around the navigation and content panels are now rendered by the web browser via CSS instead of being static images.
The reason the design was so "flat"/"fake" before, is because Internet Explorer 6 and older don't support true alpha transparency in PNG images very well, and I was trying to make my web design as accessible as possible to all browsers. But recently I found it's hard for me to read the text on my own site at times, and it's usually only a problem further down on a page where there's nothing but text, and the starry background image. So, now the purple sun will stay put and add some flair to the page no matter where you scroll it to. :)
Internet Explorer 6.0 and older will still be served the old layout with the flat images with fake transparency and a scrolling background; all other browsers will get the new layout with the true transparency and CSS-rendered borders. :)
Next time I completely replace the web design, IE 6 and older won't be getting any love; if that browser chokes on alpha-channel PNG images it's not my problem; that browser is a decade old.
Tags:
0 comments | Permalink
---
Copyright © 2018 Noah Petherbridge — All rights reserved
Hosted by
DigitalOcean
Page generated in
0.0010s
.