Tagged as: Pinephone
Status of mobile Linux apps on Pinephone (Screenshots)
The Pinephone is a smartphone that runs mainline GNU/Linux software instead of Android, and the software is still a work in progress. I've had a Pinephone since about May of 2020 and have been watching the rapid growth of the software ecosystem for it, so this blog post is kind of a "status update" in the form of screenshots of various apps that are already running great on this device.
I'm not a software developer in that space, so props to the whole open source community that's making this all come together!
The question is: "is this phone daily driver capable yet?" and to that I say: it's getting close! I haven't yet tested putting my SIM card into the phone and trying voice calls and SMS texts, but I've heard from others that these are working and reliable for a long time. MMS picture messages are still a work in progress though, and they say the phone doesn't wake up quickly if an incoming phone call comes in while the phone is sleeping.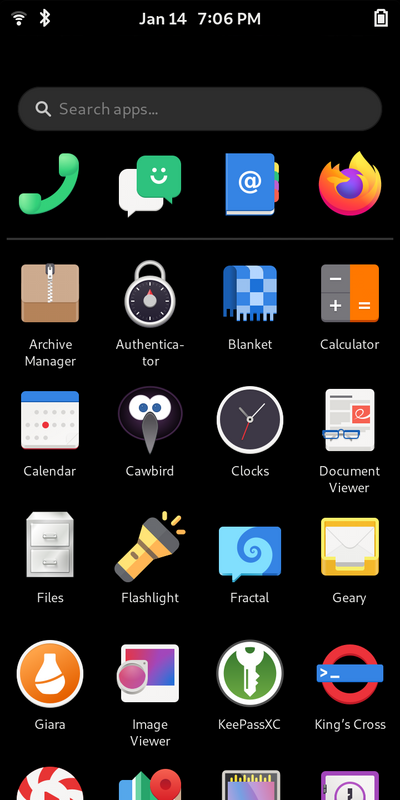 All that aside, the big apps for me to have working to call this a daily driver phone should include:
A password manager (KeePass compatible, ideally).
A web browser capable of using web apps for the sorts of Twitter, Reddit, and Doordash.
Contacts & Calendars that sync to my Nextcloud server.
An email app.
Messenger applications (Telegram especially).
Maps & GPS application.
The basic utilities: calculator, flashlight, camera, etc.
Full disk encryption, for peace of mind in case I lose my phone!
And: I have basically all my bases covered and then some! This blog post goes through some of my favorite apps that work well on Linux mobile.
Tags:
0 comments | Permalink
---
Pinephone vs. De-googled Android
The Pinephone is a new smartphone in the works that will run mainline Linux as its operating system instead of Android, and already has a lot of Linux distributions that run on it. The idea is it would run all the same Linux software you get on desktops, servers or Raspberry Pi's and give you a private alternative to Android devices which send a lot of data up to Google.
They've already released some phones, and I have one that came installed with Ubuntu Touch, and I've been testing the operating systems as they progress. Linux on Mobile is still very early, most graphical apps don't fit on the tiny screen size of a smartphone, battery life can still be improved, camera quality can be improved. But progress is advancing rapidly and there's a growing number of apps that work and provide basic "smart phone" functions: calls, texts, email, calculator, calendar, maps, password manager (KeePass), web browsers.
My dream is to use a Pinephone as my daily driver, but it's still got a long ways to go, and I got impatient and instead installed a de-googled Android ROM onto my existing Pixel phone.
And having used both Linux and Android on mobile, I've determined that a de-googled Android ROM is a very solid alternative to a Linux phone while you wait for Linux phones to get better:
The F-Droid app store has a lot of free and open source apps for all your "smart phone" functionality and larger number of mobile-friendly apps compared to Linux.
Termux for Android is a very cool terminal emulator with a package manager! You can install Linux software like git, ssh, python and run a full Linux environment.
You're reasonably private at the operating system level: without Google Play Services installed on Android, Google Location Services and other features aren't there and so aren't spying on you.
Android apps are more secure than Linux with their sandbox and permissions.
You can run some Play Store apps, but not apps that rely on Google services. Still, on Pinephone you can have none of the Android apps (very well) anyway.
Details below:
Tags:
0 comments | Permalink
---
The little things they don't tell you about Linux
When we're talking about "Linux" the operating system, we really mean one of the thousands of Linux distributions that exist out there. Linux itself is just the kernel -- the lowest level part of the operating system that deals with hardware, drivers, process and memory management. A distribution is all the stuff on top: the software, the desktop environments and so on.
Most Linux distributions can be called "GNU/Linux" because they include the Linux kernel and a suite of software tools from the GNU project. These are mostly command-line programs like grep and less as well as deeper system components like the GNU C Library (glibc) which is used by basically every program on the system.
When you're new to Linux you may look at this enormous list of distributions and be paralyzed as to which one you should pick. Fedora, or Ubuntu? Or Debian or Arch?
People will often tell you: it doesn't really matter, all these distributions are running more-or-less the same software and the biggest differences between them is their package manager and what format their software is shipped in. On Fedora you might dnf install firefox or dnf update thunderbird whereas on Debian you would apt install firefox or on Alpine you'll apk add firefox. Just learn the set of commands for your distro of choice and you're good. Software on Fedora-like distros come in .rpm packages, Debian-likes come in .deb, but mainly you'll install software through the official repositories of your distro.
But there's more differences between the distros that they don't tell you about:
Tags:
1 comment | Permalink
---
Pinephone: First Impressions
The Pinephone is "an open source smart phone supported by all major Linux phone projects." I'd been keeping my eye on these things for a few years now and finally got the Pinephone in my hands earlier this week to try it out.
The idea with devices like this (as well as the Librem 5 phone) is that it's a smartphone that runs standard mainline GNU/Linux software instead of Android. This means root passwords (or sudo), SSH servers, full admin control of the device, and ability to run all the familiar Linux software that you get on a desktop PC, server, or Raspberry Pi type of device.
Importantly this means no Google Play Services or built-in spyware and the user is in control of their device. More privacy, but not necessarily more security.
There are many Linux operating systems available for the device already and I've tested out Ubuntu Touch UBports, postmarketOS and Mobian/Phosh and here are some of my impressions so far.
tl;dr.:
The phone is not "daily driver" status yet.
Most graphical Linux apps don't fit on a small screen yet.
The phone otherwise works as well as any Linux device such as a raspberry pi.
See also: I'm maintaining a Linux on Phones page on my site's wiki to collect notes, config tweaks, software I found that works and so on.
Tags:
2 comments | Permalink
---
Copyright © 2021 Noah Petherbridge — All rights reserved
Hosted by
DigitalOcean
Page generated in
0.0013s
.