This week, some news about Waydroid made its way to the r/linux subreddit and in the comments I saw a Pinephone owner write about their experience with Waydroid and none of his complaints had anything to do with it being slow or clunky or broken, which is about what my experience was the last time I tested out Anbox about a year ago.
So it prompted me to check Waydroid out, and... it works remarkably well! It really surprised me. Waydroid makes use of containers to run Android directly on your own Linux kernel, without emulation, and so it performs very well -- some Android apps even run more smoothly than their native Linux counterparts!
I wasn't expecting that the Pinephone was ever going to be able to run Android apps smoothly on a GNU/Linux system, but now that it does, and does so this well, this is a game changer in terms of the Pinephone being "daily driver" ready. Finally, I have a way to use Slack and Discord from my Pinephone, something that was basically not possible at all before!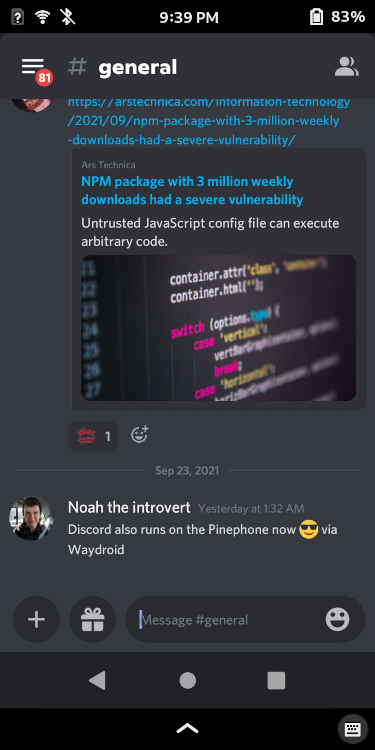 Now, to be clear: even without Android, there are a very good collection of Linux apps that already work well on the Pinephone. Having the option of Android for the odd proprietary app like Slack or Signal is nice to have. Read on to the full blog post for how Waydroid works right now, what are some of its pain points still, and a few screenshots of my Phosh app drawer showing everything I have installed on my Pinephone.
The User Experience
This is how Waydroid behaves once installed:
There is a "Waydroid" app launcher in my drawer and this brings up the "Full UI" screen for Waydroid -- you see the LineageOS home screen and can see the home screen apps, swipe up for the Android app drawer, swipe down for the Android notifications drawer, and the Android task switcher works to switch between the various running apps.
In addition to this Full UI launcher, every Android app installed also gets a launcher icon directly in your Phosh app drawer, alongside your other Linux apps. You can directly run the apps from here as normal.
The window manager in Phosh generally separates the Android apps into distinct tasks as you'd expect, one window per app. It's sometimes a little janky, you'll switch to the Slack window but Discord came up instead.
LineageOS comes with a handful of "redundant" apps such as Contacts, Calendar, Clocks, Settings, and others that are similar to GNOME apps and clutter my app drawer; but you can remove their launchers from your ~/.local/share/applications folder and clean that up. For the Android apps I would literally never want to launch from Phosh they can be removed this way; you can always reach them from the "Full UI" and going thru the Android apps drawer.
Waydroid Caveats
Waydroid is still in development and many of the below issues will surely be resolved over time. But Waydroid is already working way better than I ever expected at such an early stage!
The Mobian wiki has instructions how to set up Waydroid. Apparently, the upstream project hosts their own dpkg repo for Ubuntu and Debian which is nice - so I'll get updates directly from the source as they're released.
A few strange quirks that Waydroid currently has:
Initial startup time is slow. After a fresh reboot of the phone, launching your first Android app takes a considerably long time, like over 30 seconds of staring at your Phosh desktop waiting for an app window to appear.
Once warmed up, it runs fast! After that first app launch it works really well! Launching a new Android app has the app window appear within just a couple of seconds. I was easily able to run ~6 Android apps or so at the same time without the phone showing signs of being burdened yet. I haven't stress tested how far I can push that, though.
Scrolling and animations are "smooth" - not as fast and snappy as a flagship Android phone, but not as slow and choppy as some Linux apps either! Twitter for Android is very usable where all the other options on the Pinephone were sub-par (Firefox struggles on their mobile site, Chromium is better but has its own rendering issues and blurry text, etc.)
Sometimes window management is finicky. An Android app may appear to "crash" suddenly, but really only its window has gone away. Reopening another Android app will bring a Waydroid window back up and you can task switch and see your original app still there where you left it.
The camera and microphone don't work yet. But these are not important for my needs right now anyway, and I'm sure support will come with time.
The filesystem and clipboard are isolated. You can copy/paste within Android but the clipboard doesn't share across the Android/Linux boundary. To share a picture from my Pinephone thru an Android app I need to first download the picture into Android's environment. With creativity you can probably set up file sharing with SMB, FTP, KDE Connect or so on.
Keep your Phosh on-screen keyboard CLOSED while Waydroid initializes. If your keyboard is open, Waydroid will pick a window size that leaves room for the keyboard, and then stays that size forever (until you reboot the phone) even if you close your keyboard. The Mobian wiki suggests launching an app like Clocks that doesn't open your keyboard while you wait for Waydroid to come up.
And on the topic of keyboards: Android will use its own keyboard for Android apps, and the Phosh keyboard doesn't currently interact well with Android anyways. So while you are using Android apps you'll keep your Phosh keyboard hidden away, and the Android keyboard will appear when needed. It's a little weird having two keyboards, but oh well! Since Waydroid doesn't resize its window your Phosh keyboard would appear "on top" so even if you could type into Android apps with it, you wouldn't see the text you were writing because the text box is at the bottom of the Android screen, "below" your Phosh keyboard!
It is basically LineageOS without Google Play Services
Waydroid uses a minimal LineageOS image as its Android base.
In Waydroid you can install the F-Droid app store and, through that, install the Aurora Store -- a third-party client for the Google Play Store. With Aurora you can download all your usual Android apps such as Slack, Discord, Netflix, and so on.
Like any de-googled Android ROM, some apps from the Play Store won't function without the Google services and other apps may have limited functionality. See my Degoogle Wiki for some of my notes on de-googling Android and some apps that still work fine without the Play Services.
Notable apps that will not work on Waydroid include:
Lyft and Uber because they require the Google Location API. But, these two have good working web apps that you can use from just Firefox on Linux on the Pinephone.
Google's first-party apps (YouTube, Gmail, etc.) 100% depend on the Play Services.
Snapchat is notoriously difficult to use from a de-googled phone, it makes use of Google SafetyNet and employs all kinds of tricks so that it does NOT sign in on suspicious Android devices -- they really don't trust their users!
But many apps that I personally use will work fine without Google services.
Android apps I have tested
Slack was the first one I installed. My workplace uses it and it's a crucial app for me to have so I can stay responsive to work in case I'm away from my laptop for a while. There was previously NO good way to use Slack from the Pinephone -- their mobile website just directs you to the Play Store, and their desktop web app isn't optimized at all for the phone's screen size; you need to zoom out the page quite a ways to see the UI properly but then text size is very small. Workable in a pinch but not great. I have looked at Pidgin plugins and Matrix bridges for Slack but options are not good. It is very nice having the Android Slack app easily runnable on the Pinephone!
Discord also works well -- see the screenshot at the top of this blog post. Keep in mind that the camera and microphone aren't working yet, but for just chat and sharing files and pictures all is fine!
Bank of America works (updated Oct 11 2021), this has been my bank for ages and they have a fully functional mobile website that would work in Firefox but also their Android app works in Waydroid. I had trouble searching in Aurora Store for the app but used the link from their website and installed it; could sign in and everything. On de-googled Androids I've tried the BofA app even supports the fingerprint reader! The Pinephone doesn't have one of those (yet) and I wouldn't expect Waydroid to pass it thru yet even if it did but all the basic features of the BofA app are working!
Signal works fine. I needed to manually download the .apk from Signal's website because the Aurora Store said the app "wasn't compatible" with my phone - but it works fine! The manually downloaded APK even has a work-around for the lack of push notifications. I was able to activate a new account (using my Google Voice number) within Waydroid on Pinephone and send messages.
Telegram also works -- and it works better than the native Linux client does! Under Mobian, Telegram Desktop takes a very long time to log on whereas the Android app comes right up (provided Waydroid is warmed up already).
Spotify works -- I could log in and play music. I tested this app to verify whether DRM-heavy apps will function, and it seems to! I have not tested Netflix or Hulu though, as I have little interest to watch video on my phone and there is no Chromecast support anyway.
Twitter works great. They have a mobile website too which is OK and there were already a few options to access Twitter on the Pinephone without Android. Even on my Pixel phone I prefer Twitter in a web browser over their native app, but the web browsers on Pinephone struggle a bit with their website, so it is nice to have the native app available.
VLC Media Player works! It plays videos back really well too, at least for the h.264 encoded video I tested it with. Your mileage may vary with other video codecs. While VLC has built-in Chromecast support, it does not seem to work under Waydroid.
Jellyfin doesn't really work. Its in-built Chromecast feature, too, can not detect any actual Chromecast on my network. When I stream a video, I can hear the audio but the video output is just black.
Screenshots of my Pinephone Apps Drawer
The Pinephone was already getting close to "daily driver ready" before Waydroid and now it's even better! Here are the full set of apps I currently have installed on my Pinephone, a few of which now are Android apps!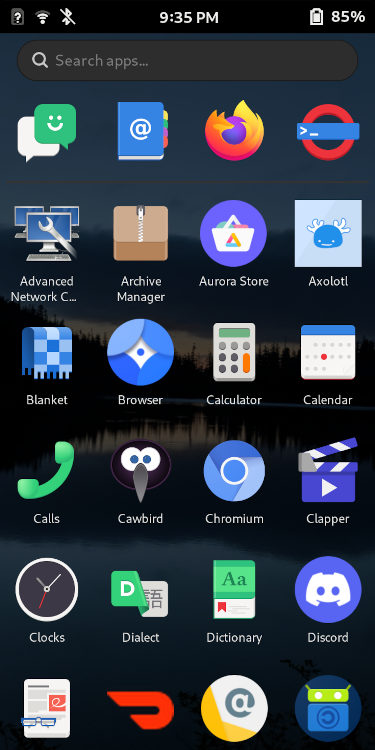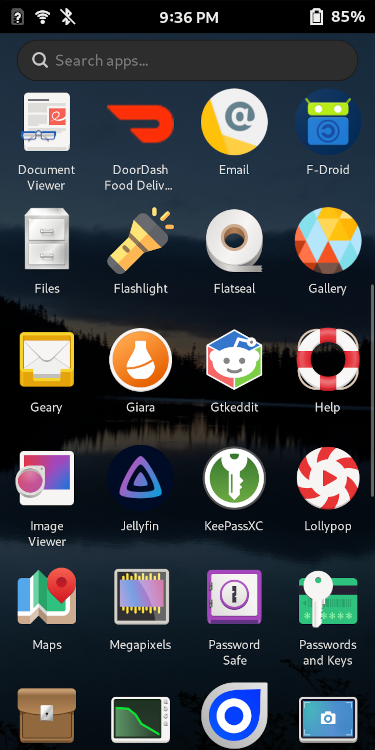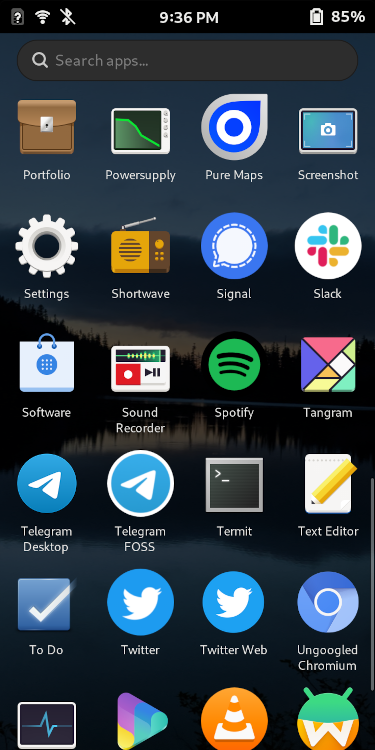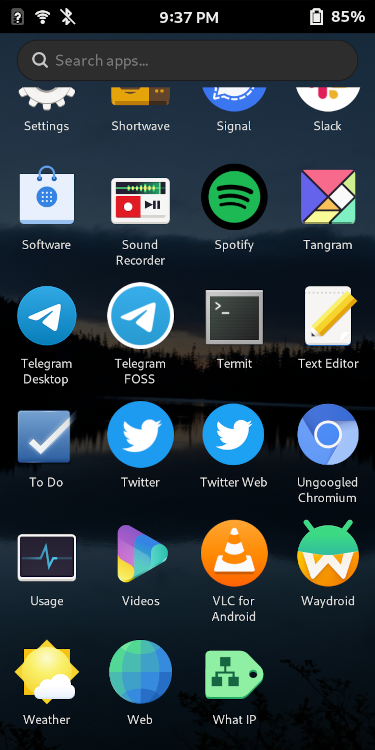 The app list in text form:
Chatty (Linux): SMS messenger.
Contacts (Linux)
Firefox (Linux)
King's Cross (Linux): Terminal emulator.
Advanced Network Config (Linux)
Archive Manager (Linux)
Aurora Store (Android): Google Play Store client.
Axolotl (Linux): third party Signal client (I haven't got it working)
Blanket (Linux): sleep sounds generator
Browser (Android): runs fine! Sometimes faster, sometimes slower than native Linux browsers.
Calculator (Linux)
Calendar (Linux)
Calls (Linux)
Cawbird (Linux): a Twitter client, works OK, doesn't do notifications well and DM's are a bit jank.
Chromium (Linux)
Clapper (Linux): a hardware-accelerated video player for Pinephone.
Clocks (Linux)
Dialect (Linux): a language translation app.
Dictionary (Linux)
Discord (Android)
Document Viewer (Linux): PDF viewer.
DoorDash (Chromium web app; Linux)
Email (Android)
F-Droid (Android): free and open source Android app store.
Files (Linux)
Flashlight (Linux)
Flatseal (Linux): permissions manager for Flatpak apps.
Gallery (Android)
Geary (Linux): an e-mail client optimized for mobile phones.
Giara (Linux): a Reddit client, a bit buggy and crashes a lot.
Gtkeddit (Linux): a better Reddit client, works very very well already!
Help (Linux): GNOME documentation.
Image Viewer (Linux)
Jellyfin (Android): doesn't work super great right now.
KeePassXC (Linux): works decently! It "scales-to-fit" and is usable and it supports 2FA TOTP codes.
Lollypop (Linux): offline music player for your MP3 collection.
Maps (Linux): GNOME Maps.
Megapixels (Linux): the only working camera for the Pinephone.
Password Safe (Linux): a KeePass client that is optimized for mobile.
Passwords and Keys (Linux): manage your GNOME keyring etc.
Portfolio (Linux): a simple file browser.
Powersupply (Linux)
Pure Maps (Linux): another Maps application.
Screenshot (Linux): the GNOME Screenshooter tool.
Settings (Linux): GNOME Settings.
Shortwave (Linux): Internet radio.
Signal (Android)
Slack (Android)
Software (Linux): the GNOME Software Store.
Sound Recorder (Linux)
Spotify (Android)
Tangram (Linux): a Matrix client?
Telegram Desktop (Linux)
Telegram FOSS (Android)
Termit (Linux): a terminal emulator - I'm not sure how this got installed.
Text Editor (Linux)
To Do (Linux)
Twitter (Android)
Twitter Web (Chromium web app; Linux)
Ungoogled Chromium (Linux)
Usage (Linux): CPU usage monitor.
Videos (Linux)
VLC for Android
Waydroid (Android Full UI)
Weather (Linux)
Web (Linux): the GNOME Web browser, Epiphany.
What IP (Linux): simple IP address tool.
53 native Linux apps to 13 Android apps - not a terrible ratio to have!
All of the above apps work well on the Pinephone except where noted otherwise.