Online TTF to EOT Font Converter
After posting my
initial blog post
about embedding fonts in a way that works with Internet Explorer and Firefox 3.5, a reader has informed me that he had some trouble running the ttf2eot program on Windows XP.
So I've created a web-based converter tool to turn TrueType TTF fonts into OpenType EOT fonts, to go along with my other tools that turn images into favicons and turn images into XBM masks.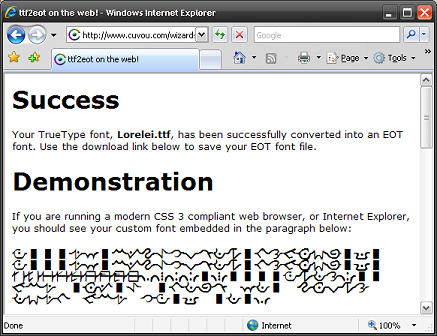 You can use the new tool here. As with all the other tools, your converted files are cleared off the server after 24 hours, so don't think about hotlinking your embeddable fonts!
Tags:
There are 36 comments on this page. Add yours.
Wow, this is so incredibly useful for Win XP users! You can't believe what a problems I had with Microsofts WEFT.
Thank you very much for this!
Good job. I just want to convert TTF File to EOT File and not spend 3 hours to understand how WEFT works. For me your converter is perfect !!! Thx...
hello boss u r simply great u have solved my problem very efficiently thax
I just tried converting a font, Cooper Std, with firefox and it works... but in Internet Explorer it just outputs a standard looking font. Any ideas?
You're the man! Had so many troubles with the microsoft thing and ttf2eot. So i'm very happy with your online solution!!!
Thanks!
This would be the best tool if it actually worked. Run it in IE and you'll see what I mean. It just defaults to Verdana.
For me, it actually did not worked. I got this: "The conversion has failed! Maybe your uploaded TTF file isn't valid?"
The "conversion has failed" error is shown when the ttf2eot binary exits with an error code and the resulting EOT file is 0 bytes long. You'll see it if you upload a TTF that is also 0 bytes long (an empty file), but a corrupt TTF file would also cause that error too.
If you're absolutely sure the TTF is valid (i.e. you can open it with your local font viewer), it may just be in an unusual format and the ttf2eot binary can't convert it. In which case, download and run ttf2eot yourself (http://code.google.com/p/ttf2eot/) - if it doesn't work there either, bug the creator of ttf2eot. :)
LOL... comment form not understand russian symbols :-D
MUCHAS GRACIAS POR EL UTILITARIO ME VINO DE 10.
I'm from Brazil and I am very grateful for it! I managed to change the properties of the stylesheet.css file and convert the font CALIBRI.ttf to .eot on your site! I managed to actually change any source of my site! Grateful ...
Its a very good tool
vishalswamy@yahoo.co.in
GG man !!!!!
tnx
Microsoft Weft suck too much !!!!!!
Thanks a bunch worked like a charm.
Thanks a bunch worked like a charm.
Your code worked like a miracle to me. Thanks a lot!! you are a genius
Great job! thanks a lot :D
This is fantastic... thank you for your hard work.
Epic! Just what I needed! :D
great...superb..awesome...and finally thaxxx
Thanks a lot !!! From france
Hello, as RussianGril mentioned it doesnt work for cyrillic fonts. The only change that appears are the letters but those are not much different from the latin numbers.
Greetings from Bulgaria
doh! the link is not working. WEFT is a pain in the ass... Incredible there are no standard tools for this...
very very thanks,
i loss my lot of time for font adjustment in css.
your eot file working well in ie
thanks again.,
you are the man, the tools save me tons of time. I will use it to fix my IE customer font issue
This conversation is very useful for Internet Explorer. This is a fast and inexpensive process. It runs on Windows or Mac is using VM software. Thanks fro sharing.
How To Convert Fonts
I absolutely love your blog and find many of your post's to be exactly I'm looking for. Would you offer guest writers to write content for you personally? I wouldn't mind writing a post or elaborating on a number of the subjects you write regarding here. Again, awesome website! Much Complex
Copyright © 2023 Noah Petherbridge — All rights reserved
Hosted by
DigitalOcean
Page generated in
0.0105s
.