MS-DOS and Windows 3.1
For a limited time only, files for installing MS-DOS 6.22 and Windows 3.1!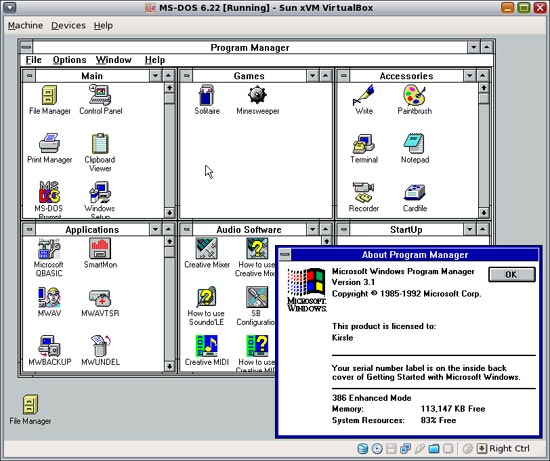 You can download everything from my MS-DOS page. I have some downloads for the following things:
MS-DOS 6.22 Installer Floppy Images
Windows 3.1 Installer Floppy Images
Drivers:

CD-ROM Driver (Floppy Image)
DOSIDLE to make DOS not consume 100% CPU(Floppy Image)
WQGHLT to make Windows not consume 100% CPU (Floppy Image)
SoundBlaster 16 Drivers (CD Image)
Installation Notes:
The version of Windows in this tarball is 3.1 -- not Windows for Workgroups 3.11 (for that, download it separately from
my MS-DOS page
). I got ahold of this version of Windows 3.1 from a CD image instead of floppies, so I had to convert them to floppy images myself, and not all the files fit on all the disks (there should only be 6 disk images but there's 7 in this tarball).
Windows 3.1 can still be installed from these images, it will just require more disk juggling. When you get a "Can't read file" error, you'll usually swap in the next numbered disk and hit enter. Sometimes you'll have to go to the previous disk instead.
Update:
If you want to download the components separately (DOS, Windows for Workgroups 3.11 and the drivers) you can find individual links on my
MS-DOS page
.
Another Update:
(10/11/12)
If you have issues with erratic mouse movement within Windows 3.1 on VirtualBox, some solutions are (from here):
Start Windows in standard mode (win /s)
Disable hardware virtualization (in the System/Acceleration tab in the VM settings)
Find a video driver that supports more than 16 colors (more info here).
Update (5/16/16):
I'm no longer hosting the bundled tarball that contains all the files + a VirtualBox preinstalled disk image to clean up disk space on my server. Instead, download all the components and install it yourself.
Links
Comments
There are 179 comments on this page.
Add a Comment