MS-DOS and Windows 3.1
For a limited time only, files for installing MS-DOS 6.22 and Windows 3.1!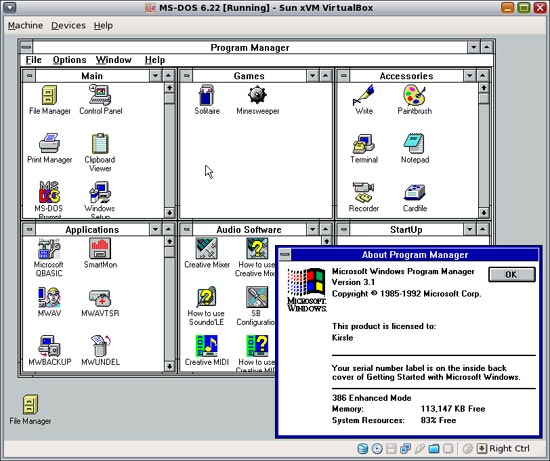 Download the tar.gz here (~80 MB).
The tarball contains:
MS-DOS 6.22 Installer Floppy Images
Windows 3.1 Installer Floppy Images
Drivers:

CD-ROM Driver (Floppy Image)
DOSIDLE to make DOS not consume 100% CPU(Floppy Image)
WQGHLT to make Windows not consume 100% CPU (Floppy Image)
SoundBlaster 16 Drivers (CD Image)

A VirtualBox Disk Image (VDI file) which has all of the above installed on it.
Installation Notes:
The version of Windows in this tarball is 3.1 -- not Windows for Workgroups 3.11 (for that, download it separately from
my MS-DOS page
). I got ahold of this version of Windows 3.1 from a CD image instead of floppies, so I had to convert them to floppy images myself, and not all the files fit on all the disks (there should only be 6 disk images but there's 7 in this tarball).
Windows 3.1 can still be installed from these images, it will just require more disk juggling. When you get a "Can't read file" error, you'll usually swap in the next numbered disk and hit enter. Sometimes you'll have to go to the previous disk instead.
Update:
If you want to download the components separately (DOS, Windows for Workgroups 3.11 and the drivers) you can find individual links on my
MS-DOS page
.
Another Update:
(10/11/12)
If you have issues with erratic mouse movement within Windows 3.1 on VirtualBox, some solutions are (from here):
Start Windows in standard mode (win /s)
Disable hardware virtualization (in the System/Acceleration tab in the VM settings)
Find a video driver that supports more than 16 colors (more info here).
Links
Comments
There are 141 comments on this page.
Add a Comment