MS-DOS & Software
This page contains download links for a very old Microsoft operating system so that it can be preserved -- on this corner of the Internet, anyway -- for anyone who is curious to tinker with the first versions of Windows or who just wants to take a trip down Nostalgia Avenue.
The operating systems here are distributed as floppy disk image files (with an .img extension). If you actually have a floppy drive, you'll have to flash these images onto floppy disks. If you just want to use VirtualBox, it can make use of the floppy image files directly.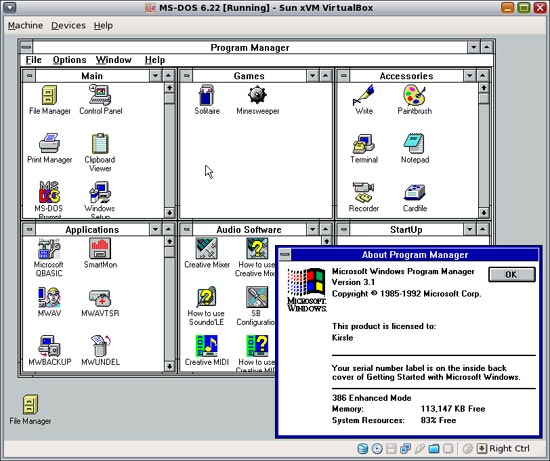 MS-DOS 6.22
The last version of MS-DOS from the Windows 3.1 era, before Windows 95.
¤ Download (.zip, 3.5 MB)
Windows for Workgroups 3.11
The first version of Windows to support TCP/IP networking.
Disk images (*.img files) for use with VirtualBox or flashing to floppy disks:
¤ Download (.zip, 10.3 MB)
Unpacked disk images (ZIP file containing all files from all disks in one folder, maybe useful for DOSBox installations):
¤ Download (.zip, 11 MB)
Hardware Drivers for VirtualBox
These are some hardware drivers for DOS and Windows 3.x that are known to work with VirtualBox's emulated hardware. Drivers include:
CD-ROM driver
DOSIDLE to make MS-DOS stop consuming 100% CPU
WQGHLT to make Windows 3.x stop consuming 100% CPU
SoundBlaster 16 as a CD image (requires the CD-ROM driver)
¤
Download
(.zip, 4.0 MB)
Comments
For tips, tricks, or to leave comments, see the relevant blog post "
MS-DOS and Windows 3.1
". The comments on that blog post are shared to this page as well (so comments on either page show up in both places).
There are 207 comments on this page. Add yours.