Tagged as: Themes
Pidgin Theme: Native Emoticons
I've put together an emoticon theme for Pidgin that uses the native emoticons for AIM, MSN and Yahoo Messengers.
AIM emoticons use the shiny yellow version from AIM 7: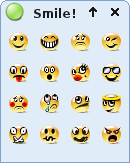 MSN uses the standard emoticons up through Windows Live Messenger 2009, and Yahoo uses the usual native Yahoo icons.
Download: Pidgin-Native-Icons-1.0.tar.gz (211 KB)
Tags:
0 comments | Permalink
---
Copyright © 2023 Noah Petherbridge — All rights reserved
Hosted by
DigitalOcean
Page generated in
0.0105s
.