Last week in class I updated all the software on my laptop running Fedora 9 Linux. The Atheros wireless card in my laptop never did get along well with Fedora. There have been some unstable hacks to Madwifi that get the wireless card to work so that I didn't have to recompile the kernel, but these hacks were very kernel-specific and an update to the installed kernel would break the wireless and I'd be stuck waiting for another new Madwifi patch to come out.
Recently Atheros decided to make nice with Linux and contribute with driver support for Linux. That's cool, except Fedora 9 is all but almost expired and we still have nothing but a hacked Madwifi. In Fedora 10, a built-in kernel module should allegedly have the wireless card work out-of-the-box. But until Fedora 10 is released on the 28th, I'm in limbo.
On my Fedora 9 install I was reluctant to update the kernel knowing that it would break the wireless, especially while the Livna repository didn't have a matching upgrade to the Madwifi hack. But I updated it because there was a matching Madwifi this time, but that made my old (working) kernel 2 versions behind current. So, Fedora installed the new kernel and uninstalled the old one that worked. And, the wireless didn't work anymore with the new kernel.
So, I installed Mandriva Linux. Mandriva is used on the Acer Eee PCs and works heavily with Atheros hardware, and it was known that my particular wireless card works out-of-the-box with Mandriva. And it does. And Mandriva has a pretty default desktop theme. But, it's also a very annoying distro to use.
It's an RPM-based distro, but it doesn't use YUM for its front-end package manager. It uses something called URPMI, which doesn't have a very comparable interface at the command line. That's only an annoyance, but what I have a bigger issue with is how Mandriva replaces standard GNOME utilities with its own "control center" suite, which frankly sucks in comparison.
Mandriva's idea is that they wrapped all system administration tasks -- managing users, hardware, services, software -- into something similar to the Control Panel in Windows. Instead of using the already available, tested and stable GNOME programs, they reinvented the wheel. The most annoying part is that Mandriva's network manager applet really sucks. With GNOME's Network Manager, you can just click the icon on the panel and select the radio box for a wireless network that appears in the dropdown. The applet connects or it doesn't connect and it's really simple and straightforward. Mandriva's system has so much more complexity to it that of course it has bugs.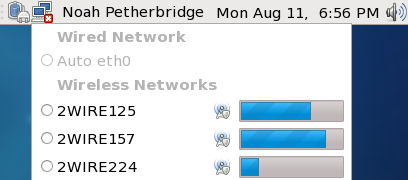 I can connect to my home network and the network at the office, but many other wireless networks, the applet just refuses to connect to. I click connect and it tells me it's making an effort to do so, but it doesn't, it just sits there forever and ever and doesn't go anywhere. The only way I found to connect is to go into some "Monitor Mode" (some advanced-looking packet monitoring thing that graphs out the network activity) and click some "Connect Wifi" button in there to get the wifi to even connect.
And, I couldn't get the GNOME Network Manager applet to install and work either. Mandriva's custom setup with the network means that the sysconfig scripts for the network devices are dynamically updated by Mandriva's own network program, so that, if I could get GNOME Network Manager to start, it wouldn't be able to find which devices to monitor because anytime I update the config scripts by hand, Mandriva overwrites them again.
Grrrr. I so can't wait for Fedora 10 to come out. >.<