Update (Nov 17 09):
The final version of Fedora 12 fares
slightly
better with GNOME Shell, but not by much. It also works
just fine
with Compiz Fusion within VirtualBox.
Read more about it
.
This is a sequel to my rant about GNOME Shell. I decided to back up my claims with an experiment.
Installing gnome-shell in a virtual machine with no 3D hardware acceleration.
Every single desktop environment that exists right now will run just fine in a virtual machine with no 3D hardware acceleration: XFCE 4.6 and older; KDE 4.3 and older; KDE 3.x and older; GNOME 2.26.3 and older; LXDE; and of course all of the desktop-less window managers (IceWM, et cetera).
GNOME 3.0, I claimed, with its GNOME Shell, will be the first desktop environment that will not run unless the user has 3D hardware acceleration, and that there is no fall-back. Here is the proof:
No Guest Additions; No 3D
I installed the
Fedora 12 Alpha
in a virtual machine with VirtualBox. Fedora 12 Alpha (11.92 Rawhide) is the latest development release of Fedora, and the Rawhide repository contains up-to-date packages for gnome-shell. So with this I don't have to worry about whether I just compiled gnome-shell in the wrong way; the Fedora dev team has built the RPMs here.
* Fedora 12 Alpha (11.92 Rawhide)
* VirtualBox 3.0.6 r52128 (2009-09-09)
Let's launch it!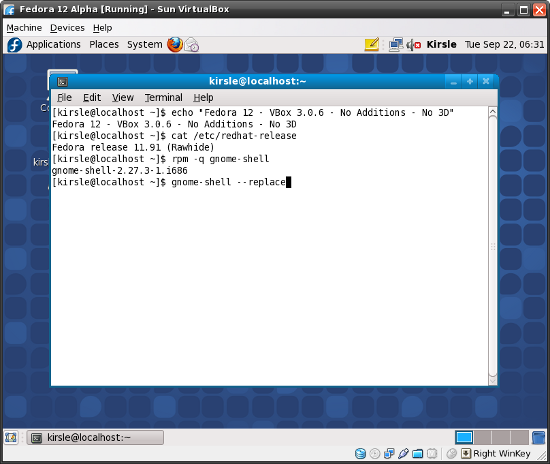 Getting ready to launch GNOME Shell
And... what happens?
Let's put on the dumb end user hat and say Joe Average installed Ubuntu 10.10 which might come with GNOME 3.0 and GNOME Shell, he hasn't installed his nvidia drivers yet because they're proprietary and Canonical can't legally include them with Ubuntu, and he logs on and sees THIS. He's lucky that X11 didn't crash entirely and send him back to the login screen, but nonetheless he can't see anything. He can't see Firefox to start browsing the web trying to find a solution to this problem.
Okay, let's move on...
Guest Additions, No 3D
After installing the VirtualBox Guest Additions in the new virtual machine, but still not enabling 3D hardware acceleration, the results are...
Exactly the same.
I won't post screenshots because they look just like they did the last time. I get a mostly black, unusable desktop.
Of note however is that the terminal printed this upon starting the GNOME Shell:
OpenGL Warning: Failed to connect to host. Make
sure 3D acceleration is enabled for this VM.
VirtualBox knows GNOME Shell was requesting 3D support via OpenGL, and the guest additions driver gave me this warning. Let's move on...
Enabling 3D Acceleration
VirtualBox's 3D support is fairly new and still full of bugs. Actually their support for
Linux
guests is even more recent than the 3D support itself. I haven't tested running the ol' Compiz Fusion in VirtualBox, but I've heard that with the 3D support this becomes possible.
I've personally not used it. But it is known to be buggy; VirtualBox labels it as "experimental"... well, here's why:
In this experiment, even with 3D acceleration by the virtual machine, GNOME Shell is not usable. Again, though, VirtualBox's 3D acceleration is still in the "experimental" phase. It probably doesn't work a whole lot better with Compiz Fusion, either. Plus my video card might just suck (VirtualBox basically passes the guest's OpenGL calls directly to the host's video card).
But the thing to take away from this is:
Desktops that work with basic video drivers:

GNOME 1.x series
GNOME 2.x series
Xfce 4.6 and older
KDE 3.x series and older
KDE 4.x series and older
LXDE
All window managers

Desktops that don't work with basic video drivers at all:

GNOME 3.0 with GNOME Shell
(can you hear the crickets? yes, GNOME 3.0 stands alone, all by itself, in this category. sad. :( )
I rest my case.
Now let's see if the GNOME dev team can turn this around in the next year (doubtful; they all come off to me as a bunch of eye-candy-obsessed children who'd rather snazz up the desktop because they think it's "cool" than to worry about things like usability, functionality, or accessibility... and with absolutely no thought given to the user experience, and no usability studies done, etc.).
GNOME Shell for the lose.