Error Message Generator 2.0
I have just released a new toy program on my website: Error Message Generator 2.0, or ErrorGen for short.
ErrorGen is a simple program that lets a user configure customized error dialog pop-ups, with a custom icon, message and buttons, to prank their friends with or to put to good use by shell scripts if you want to ask the user a quick question from your external program.
My original ErrorGen was inspired by a web tool called "Atom Smasher's Error Message Generator" which would produce images of error dialogs that you could save to disk. My program, however, created "real" dialogs on your desktop PC that you could drag around the screen and interact with. The original version was written using Perl/Tk in 2006 and hasn't been updated a lot since - with the latest release built in 2008 for Windows XP and it hasn't aged well and doesn't run as easily on modern Windows anymore.
In 2022, Atom Smasher's page went offline and I have seen an uptick of interest in my old ErrorGen program ever since: it is recently the #1 most requested page on my website!
So, on January 21, 2023 I decided to reinvent my ErrorGen program from scratch, this time programming it in Go and to explore the Fyne UI toolkit which I had seen around but hadn't played with before. ErrorGen 2.0 has equivalent features to what my original Perl version had, but with a fresh and modern look based on Material Design that comes with Fyne and built for the modern era. I also have some plans to extend ErrorGen 2.0 with new features and especially make it more useful for command line interfaces, to make something on par with GNOME's Zenity tool.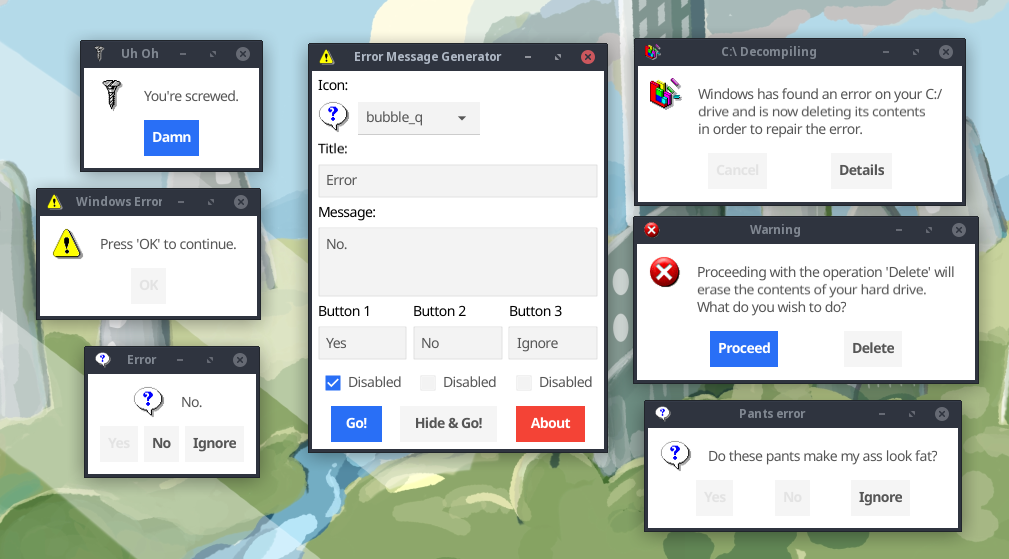 You can check out the new ErrorGen on my Error Message Generator page. The classic Perl version from 2006 is still available here if you want it.
Tags:
There are 0 comments on this page. Add yours.
Copyright © 2023 Noah Petherbridge — All rights reserved
Hosted by
DigitalOcean
Page generated in
0.0093s
.