Xfce for Gnome 2 Refugees
Ever since I jumped ship from Gnome to Xfce a few years ago when
Gnome 3/Shell
was first announced, I've configured my Xfce desktops to strongly resemble the standard Gnome 2 panel layout.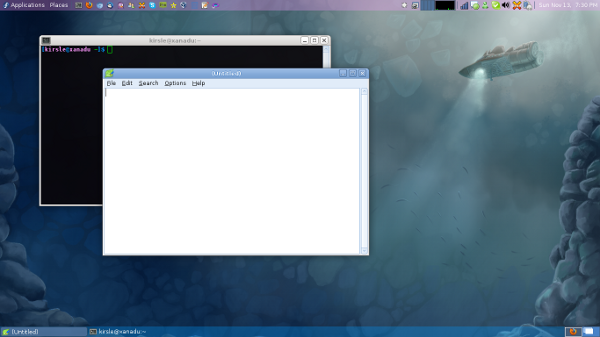 Click the screenshot for the full size version.
Along the top panel I have my Applications and Places menus, app launchers for my commonly used programs, my CPU usage graph, notification area and clock. On the bottom panel are my task bar and workspace switcher. These are all standard Xfce panel applets.
The details for anyone who's interested (the only panel applet options shown are the ones that differ from the default options):
Top Panel:
Orientation: Horizontal
Size (pixels): 24
Length (%): 100

Applications Menu
Button title: Applications
Icon: a Fedora icon in /usr/share/pixmaps...
Places Menu
Show: Label Only
Label: Places
Separator
Many Launcher applets for my commonly used programs
Separator
Style: Transparent
Expand: checked
Brightness plugin
Screenshot
CPU Graph:
Background: black
Width: 48
Show frame: checked
Show border: unchecked
Separator
Notification Area
Separator
DateTime:
Layout Format: Date Only
Date Format: Custom: %a %b %e, %l:%M %p
The DateTime applet has a drop-down calendar, unlike the normal Clock applet.

Bottom Panel:
Orientation: Horizontal
Size (pixels): 24
Length (%): 100

Window Buttons
Workspace Switcher
So, any Gnome 2 refugees who can't stand Gnome 3... Xfce 4.8 is a very good option and you can configure it to look and feel just like Gnome 2.

Update (5/28/13):
To get the look of the "System" menu to go with your Applications and Places, I found this tip elsewhere online:
Add a Launcher applet, set it to launch the Settings Manager (xfce4-settings-manager), rename the launcher to "System", and on the Advanced tab of the Launcher applet, check the box to "Show label instead of icon".

This won't get you a drop-down menu, but it will complete the Gnome 2 look for your main menu part of the panel.

Comments
There are 8 comments on this page.
Add a Comment