Sequence Breaking Pokemon FireRed
This is the story of my quest to
Sequence Break
Pokemon FireRed Version. I decided a good place to begin my quest would be Fuchsia City instead of Palette Town. This is what happened...
Part 1 - Getting to Fuchsia City
The Original Idea
In the zoo in Fuchsia City in front of the Safari Zone, there is an extinct Pokemon. This Pokemon will be either Omanyte or Kabuto -- which one it is depends on which fossil you chose in Mt. Moon. So the question was,
If you could get to Fuchsia City without having chosen a fossil, what Pokemon would be shown at the zoo?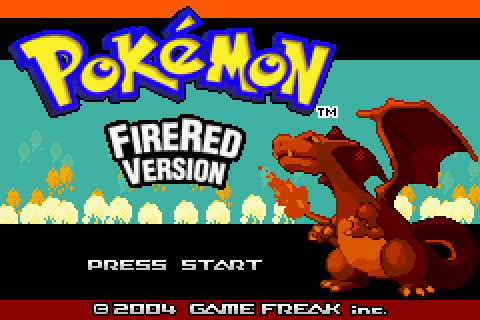 So, I set out to sequence break Pokemon Fire Red version. I decided to use walk through walls cheats to get to Fuchsia City as soon as it was convenient. I had to play the game long enough to get a starter Pokemon (I chose Charmander) and a Pokedex, because the game does extremely weird things if you cheat and start battling and capturing Pokemon without having these two items first.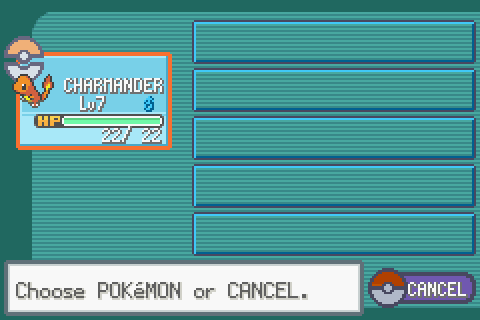 My level 7 Charmander.
So, enable the cheat codes and get out of Palette Town!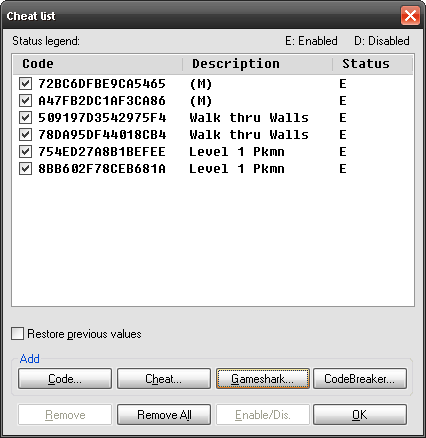 The Walk Thru Walls cheat and Level 1 Wild Pokemon
I couldn't find a cheat code that would disable random battles entirely, so I used a "Level 1 Pokemon" cheat so any random battles I do get into will be with Pokemon of reasonable levels.
Getting to Fuchsia City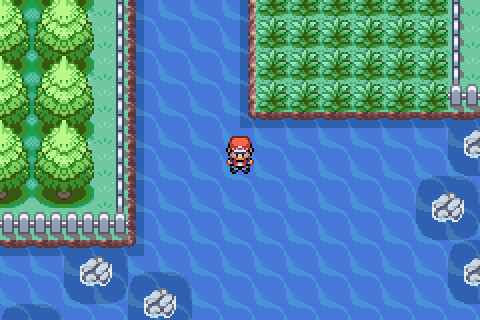 Walking south towards Cinnabar Island.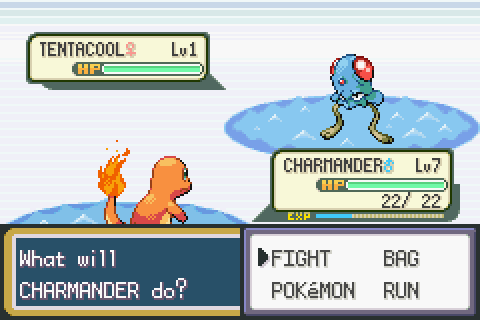 A wild Tentacool decided to fight me. Good thing it's only Level 1.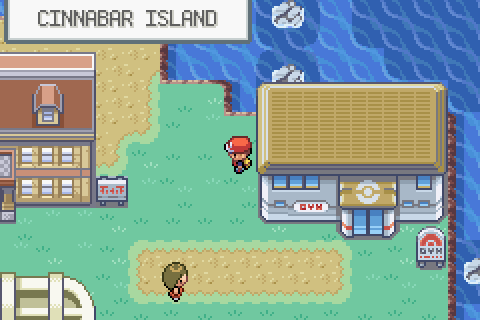 Finally arrived at Cinnabar Island.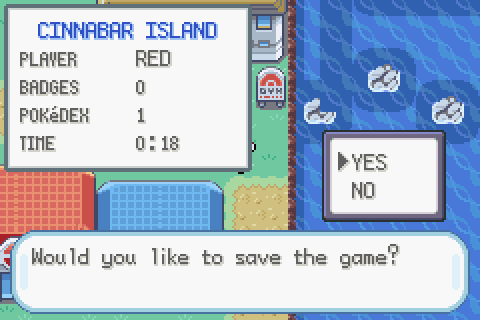 Cinnabar Island with no badges and only 1 Pokemon!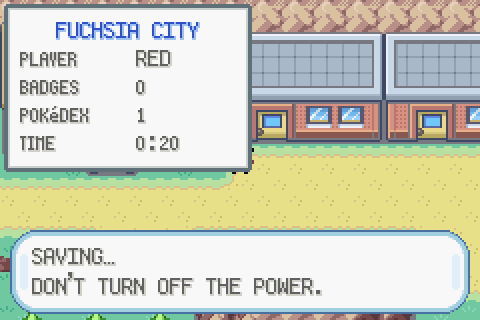 Finally arrived in Fuchsia City.
Now that we've finally arrived in Fuchsia City, let's check out the zoo and see what extinct Pokemon is there!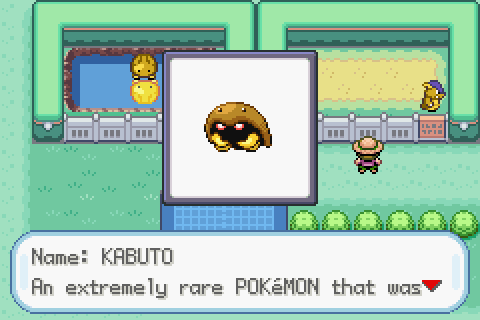 Looks like the default is a Kabuto. Mystery solved!
If you didn't choose a fossil Pokemon, it looks like the default is to show Kabuto in the zoo. Remember that ordinarily it's not supposed to be possible to get to Fuchsia City without having chosen one of the fossils, because the fossils block your path through Mt. Moon.
Getting Caught Up
Now that we're in Fuchsia City, can we try to continue the game from here without cheating any more? We should be able to! I only have a level 7 Charmander and every Pokemon in this part of Kanto is around level 30, so what can I do about that?
Use the Safari Zone! I can catch wild Pokemon here without having to battle them, and the Pokemon levels will be comparable to the average level of Pokemon in the Fuchsia City area.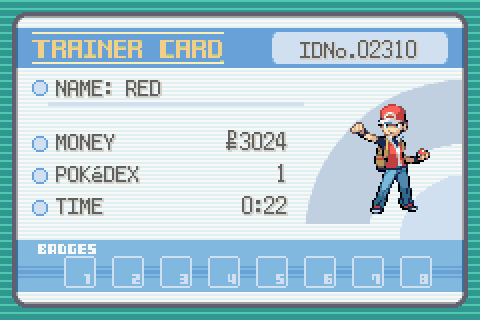 And I have $3,024 to spend on the Safari Zone game!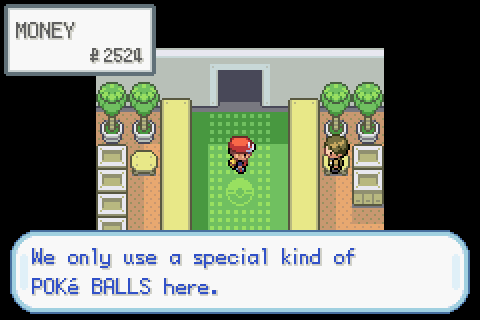 Entering the Safari Zone!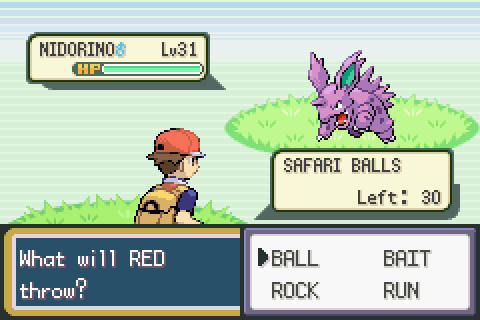 The first wild Pokemon I run into is a Lv31 Nidorino!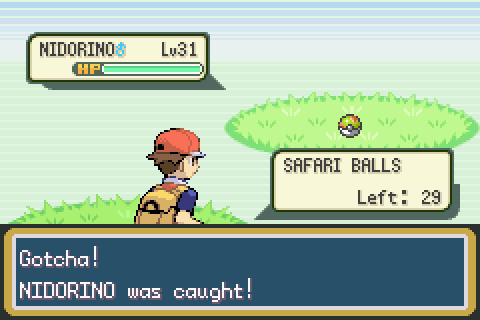 Captured!
Remember also that the Safari Zone contains the Surf HM. But, I can't use Surf outside of battle until I defeat the Fuchsia City gym leader. Good thing I'm in Fuchsia City!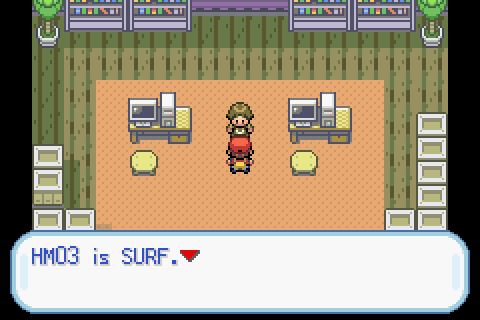 I found the Surf HM inside the Safari Zone.
From the Safari Zone, I've captured a Nidorino, Ryhorn, Nidoran♀, Paras, Exeggcute, and Venomoth. Unfortunately none of my Pokemon are able to learn Surf, so even if I do defeat the Fuchsia City gym leader, how will I escape?
But wait! There's a Fishing Guru in Fuchsia City! I can get a fishing rod from him!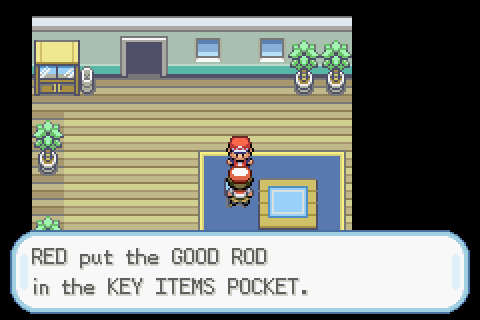 I got the Good Rod.
I was wondering for a minute how the fishing rods worked. Ordinarily you find the first Fishing Guru in Vermilion City, and you get the Old Rod which can only catch Magikarp. Then you get the Good Rod from Fuchsia City which can catch Goldeen, Poliwag and Magikarp. And then the Super Rod can catch more Pokemon.
I was wondering if maybe the rods were incremental, and that the Fuchsia City Fishing Guru would give me the Old Rod since I talked to him first. But apparently the rods are hard-coded, so I got the Good Rod. With this I caught myself a Level 10 Goldeen from the pond in the Fishing Guru's back yard.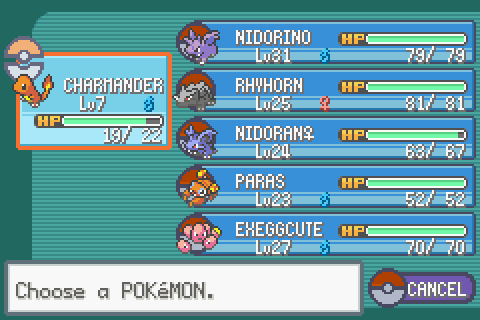 My party so far...
Before taking on the Fuchsia City gym, I need to level up my Pokemon some more. The best place to do that is to head out on Route 15.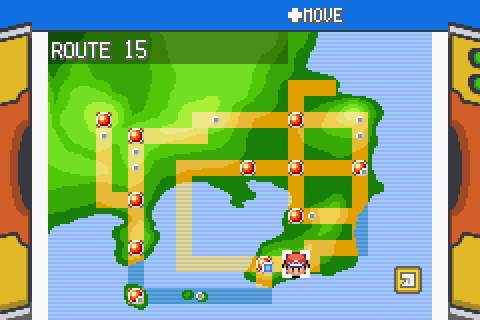 Route 15 from Fuchsia City to Lavender Town.
My Charmander is too weak to battle, but my other Pokemon aren't. I can power-level Charmander by putting it out first in battle and then switching it with someone else. The first few battles caused Charmander to level up 2 or 3 times at once. Three short battles later, and...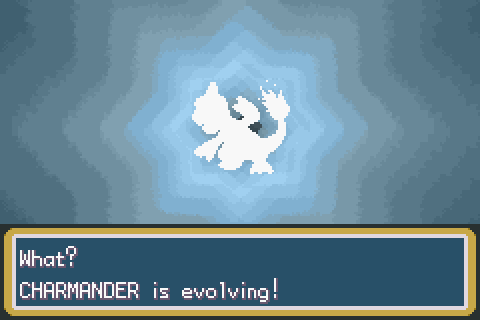 Charmander is evolving!
> Continue to Part 2 - Level Grinding on Silence Bridge
Comments
There are 4 comments on this page.
Add a Comment
Copyright © 2017 Noah Petherbridge — All rights reserved
Powered by
Rophako
v0.01 - Hosted by
DigitalOcean
Page generated in 0.027s.