Google knows when you wake up?
Something pretty odd that's happened to me on more than a couple of occasions:
I'll wake up in the morning, and then a couple minutes later people start sending me messages on Google Hangouts, so my phone's making a bunch of noise. If it's early enough in the morning, some of those messages will even say things like, "you're up early."
The thing is though, I didn't even touch my phone yet. I didn't even look at my phone.
Messages like this don't tend to wake me up, but instead I don't start getting messages until just after I'm awake.
My theory is that Google Hangouts uses the accelerometer on my phone to detect when I start moving in the morning so it knows I woke up, and then it sets my status to Online. I saw similar stuff happen with Facebook Messenger a long time ago too when I used that app... but that's Facebook and it's safe to assume they're always doing creepy stuff like that.
Googling this kind of stuff doesn't turn up many results. But now there's this blog post for anyone else who looks into this. It's happened too many times to be a coincidence; why would my status change to Online at just the same time that I happened to wake up and roll over in bed?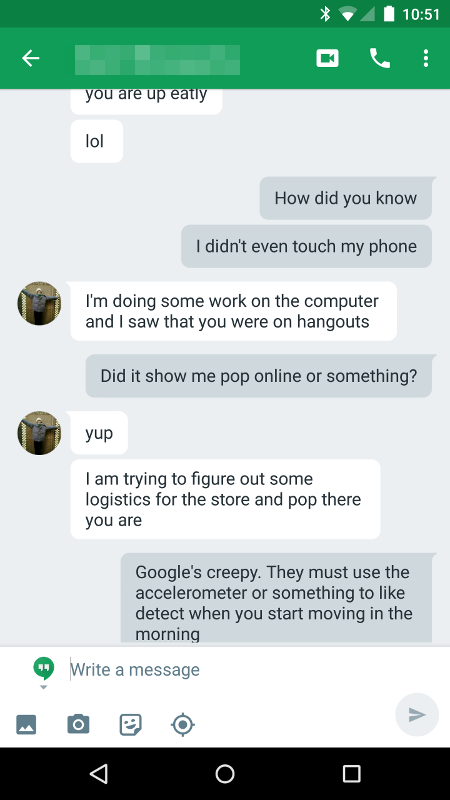 Comments
There are 2 comments on this page.
Add a Comment
Copyright © 2017 Noah Petherbridge — All rights reserved
Powered by
Rophako
v0.01 - Hosted by
DigitalOcean
Page generated in 0.058s.