"By the way: If you like this game, buy it or die."
I discovered I hold a small chunk of Internet fame even though nobody knows it.
In Pokémon FireRed and LeafGreen, there's an anti-piracy measure that I triggered late one night while using a MysticTicket and AuroraTicket to start my quest of capturing Lugia, Ho-oh and Deoxys. The ticket checker at Vermilion City told me to buy this game or die.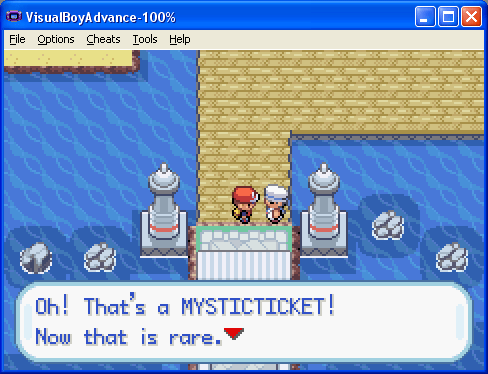 I created a You're The Man Now, Dog page using this animated GIF image (because at the time--near the end of high school--YTMND was cool). From there apparently the GIF found a home in the Bulbagarden forums.
Months (years?) after making the GIF I decided to google this and see if anyone else has seen it. Apparently it's been verified by various ROM dumpers to be legitimately in the game's code, so my ROM wasn't just a hacked copy. And that's when I discovered the familiar-looking animated GIF; verifying its MD5 hash proved it was indeed the result of my 5 minutes spent taking screenshots and animating them that these people were all linking to.
Interestingly, it seems that the GIF is the only screenshot (animated or otherwise) that exists on the topic. IIRC all I did was enter some cheats to get me a MysticTicket and AuroraTicket (either by cheating and making my monsters carry them when captured and subsequently take them away, or else by buying them at a Pokemart) and then attempting to catch a boat with them in hand.
Comments
There are 19 comments on this page.
Add a Comment