Category: Software
Do you need to store that IP address?
I was reading this ACLU blog post about how DreamHost was served with a warrant to hand over IP addresses of some 1.3 million visitors to a website they host, and it got me thinking: do websites really need to store IP addresses of their visitors?
There are a lot of VPN companies such as Private Internet Access that advertise far and wide that they explicitly chose not to keep any logs. The idea is that if the VPN provider is served with a warrant for user activity, they would have no data to hand over, because they never stored anything in the first place. Why don't websites do that?
Why Tabs are Better than Spaces
This is going to be yet another blog post in the "tabs vs. spaces" holy war that software developers like to fight about. I generally prefer tabs over spaces, but for certain types of programming languages I do use spaces instead of tabs.
I indent my Python and CoffeeScript with spaces, but all the other languages I use (Perl, Go, JavaScript, HTML, ...) get the tab characters.
Use Go as a Shell Scripting Language
A very long time ago, I stumbled upon this article "Use Java for Everything". While I disagree that you should use Java for everything (or any programming language, for that matter), the author mentions that he wrote a wrapper script that lets him use Java for shell scripts (ones where you execute the Java source file directly, without the "write, compile, run" steps).
I wanted to do something similar for Go, because I had a very simple Go program I wanted to be able to throw into my .dotfiles repo and run without needing to do too many things first: a simple static HTTP server.
Whilst using Windows operating systems and installing the software I tend to use, I've noticed that a good portion of Windows software comes bundled with crapware. During the installation of things such as
AOL Instant Messenger
, if you don't watch out, you'll also install the AIM Toolbar, set your Internet Explorer homepage to AIM's site, and set your default search engine to AIM's.
I, along with pretty much every other savvy computer user, never do the "Recommended" installation of software and always go with the "Custom Installation" route, so that I can opt out of installing unnecessary toolbars and other spyware/adware that comes with free Windows software. But does the Average Joe Windows user know that? Definitely not; the Average Joe just clicks through the install dialogs until the program he wants is installed, not knowing that he also just sold his soul to the devil by installing all manner of malicious spyware on his system.
So, I conducted an experiment.
I installed Windows XP on a virtual machine, and installed only a small selection of software that the average user would likely use, and went with all the "Recommended" installation options for every program installed. Altogether, I only installed 9 programs, and most of those were something everybody can say they've installed: instant messengers.
The Experiment
I used
Sun VirtualBox
as the virtual machine platform and installed Windows XP, Service Pack 2, on it. The specs of the virtual machine are as follows:
Memory: 256 MB
HDD Space: 10 GB
I installed a fresh copy of Windows XP, installed the VirtualBox guest additions, and used this as the baseline for a "vanilla" Windows XP installation -- a fresh, clean, pure instance of Windows with nothing really installed on it.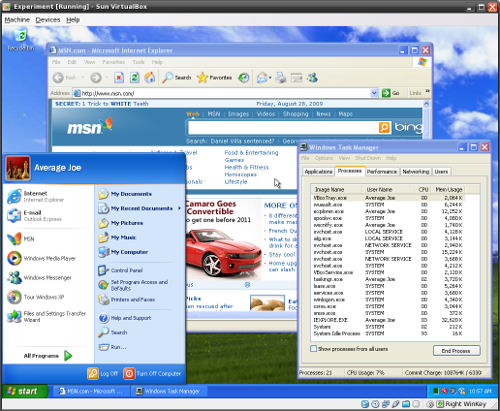 [click for larger screenshot]
In our fresh vanilla Windows XP install, we see the default desktop, the start menu, the Task Manager with few enough tasks in it that we don't even need a scrollbar, and a default Internet Explorer 6 window with MSN as its homepage.
Then, I started installing some software.
Installing Software
I started with
AOL Instant Messenger
6.9.17.2. This installed AIM like I wanted, put an icon on my desktop, and also the AIM Toolbar for IE, and it also set my homepage and search engine to AIM.
Then I installed Yahoo! Messenger 9.0.0.2162 - this installed Yahoo Messenger, put an icon on my desktop, installed the Yahoo! Toolbar, and set my homepage and search engine to Yahoo.
Then, Windows Live Messenger 2009 (Build 14.0.8089.726) - this one didn't install a desktop icon, but it set my homepage in IE back to MSN.com and changed my search engine back to Bing.
These are the three most common instant messengers that most people use. So, I went and installed other essential software:
Sun Java Runtime Environment, JRE 6 version 15. Java also took the liberty of installing the Bing Toolbar in my Internet Explorer.
Then I downloaded WinZip 12.1 Free Edition. Windows XP comes with built-in support for zip files, but Average Joe is bound to come across archives of other types and will be told to get WinZip. WinZip installed for me the Google Toolbar in Internet Explorer.
Then, the Adobe Flash Player 10.0.32.18 - this is, so far, the only piece of software that installs what it says and nothing more. It's also the only thing I've installed in my experiment that installed only what I wanted it to.
Finally, I got a couple extra instant messengers installed: Skype 4.1 and ICQ 6.5 - Skype installed the Google Chrome web browser and ICQ installed the ICQ Toolbar and set my homepage and search engine to ICQ.
At this point, I have only installed 8 programs; 8 programs that Average Joe End User is likely to install. Using the default options on all the installers, my system is now fscked up already. But why stop there? Average Joe also needs an antivirus suite, with all this scare going around about viruses.
So, Average Joe installs AVG Free because Average Joe is a cheapass who can't afford Norton or McAfee. AVG may be well-intentioned, but that didn't stop it from installing the AVG Toolbar "Powered by Yahoo!" into my Internet Explorer as well as changing my search engine to AVG Search.
So, what's the damage? 9 programs, and this is what my system looks like: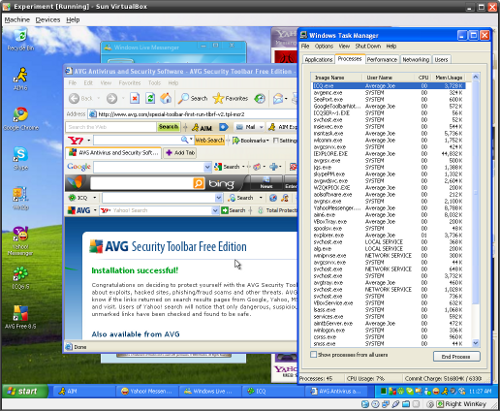 [click for larger screenshot]
My Task Manager list has grown exponentially; I have to resize it vertically as tall as it will go, and even then there's still a scrollbar. And do you see the IE window in all that mess? It's completely being murdered under the weight of the 7 different toolbars taking up HALF of the vertical screen real estate.
This is only 9 programs being installed. For a quick list, here they are again:
AOL Instant Messenger
Yahoo! Messenger
Windows Live Messenger
Sun Java
WinZip
Skype
Adobe Flash
ICQ
AVG Free
And this is the damage. Let's have a better look at that Internet Explorer window: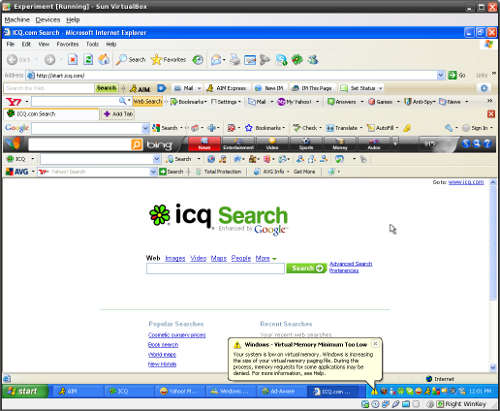 [click for larger screenshot]
This, THIS is why Windows sucks. All Windows software installs all this crapware along with it, and all this crapware competes with each other (just look how many times my search engine had been changed).
This is the list of toolbars in IE, from top to bottom, which take up 50% of my 1024x768 vertical resolution:
(IE Menu Bar)
(IE Default Toolbar)
(IE Address Bar & Links)
AIM Toolbar
Yahoo Toolbar
Tabbed Browsing Toolbar
Google Toolbar
Bing Toolbar
ICQ Toolbar
AVG Toolbar
Perhaps more saddening is this: you may have noticed in the final screenshot that I'd installed
LavaSoft AdAware
- I was intending to scan my system with it and see how much spyware and adware it detected. Know what it found?
19 cookies in Internet Explorer. Cookies!!!
The only thing AdAware found were cookies left by ad banners. No adware? No spyware? Are you kidding me!?
So, how do the startup programs look? Well, I'll tell you that rebooting this virtual machine is miserable. With all these programs starting up when the desktop loads, nothing productive can be done for a full 10 minutes. Here's the breakdown:
Startup Items
There are three categories of startup items: current user items in the registry, system-wide items in the registry, and items in the user's Start Menu. At the beginning, the only startup item was VBoxTray, which is part of the VirtualBox Guest Additions, and it was in the system-wide registry list.
After this, the startup items were:
Current User Registry Items

AOL Instant Messenger
Windows Live Messenger
Yahoo Messenger
ICQ
Skype
Google Toolbar Notifier

System-wide Registry Items

AVG Tray
Microsoft Default Manager
Sun Java Update Scheduler
VBoxTray (VirtualBox Guest Additions)

Start Menu Items
This is absolutely ridiculous.
It should be noted here that free, open source software, almost never comes with crap like this. If you stick to fine programs like Firefox and Pidgin you can install them without worrying about what other crap they'll bring along with them.
I hate Windows.
Online TTF to EOT Font Converter
After posting my
initial blog post
about embedding fonts in a way that works with Internet Explorer and Firefox 3.5, a reader has informed me that he had some trouble running the ttf2eot program on Windows XP.
So I've created a web-based converter tool to turn TrueType TTF fonts into OpenType EOT fonts, to go along with my other tools that turn images into favicons and turn images into XBM masks.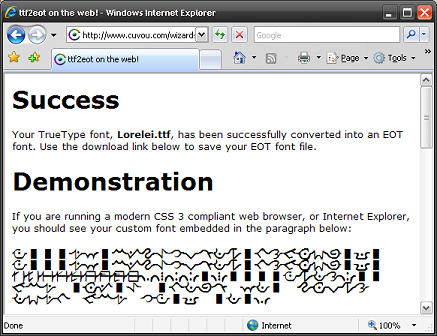 You can use the new tool here. As with all the other tools, your converted files are cleared off the server after 24 hours, so don't think about hotlinking your embeddable fonts!
Copyright © 2017 Noah Petherbridge — All rights reserved
Powered by
Rophako
v0.01 - Hosted by
DigitalOcean
Page generated in 0.089s.