Category: Minecraft
Minecraft Map: Swampcore
I've created a downloadable Minecraft map that implements "Swampcore" (older blog post about Swampcore). It's a superflat swamp biome preset with a 24/7 thunderstorm, making for an extremely hostile map where you have to scratch and claw your way into having so much as a simple dirt shack to call "home".
It runs on vanilla Minecraft (no mods or anything needed) and was created on Minecraft v1.8.3, but will probably work on later versions too.
Minecraft Clones
These are just some of my thoughts on things that a Minecraft clone should probably do differently to Mojang's (well, Microsoft's) Minecraft, since a clone would be starting from scratch anyway and would be in a good position to fix some of the fundamental problems in the original game that are impossible/unlikely to be fixed by Microsoft.
Some of the Minecraft clones I'm familiar with so far are Terasology, Minetest, and Michael Fogleman's Craft. So far, Craft seems to do the most things "right" (as far as my list of fundamental improvements on Minecraft go) such as only storing changes to the blocks to disk rather than whole entire chunks, but more on that in a minute.
Disclaimer: I'm not a game developer. I am a software developer and have a particular interest in the technology used in games, i.e. I have the knowledge to write code for most given game mechanics and spend countless hours thinking about these sorts of things. I've read a lot about the technical internals of Minecraft and have read some of the source code to these clones, so this blog post is full of my own educated opinions on things. I may, at some point, take on the challenge of creating a Minecraft clone of my own, but until then these are just the things I've been thinking about over the last several months.
Time for another Minecraft tutorial using command blocks to do something pretty neat using the vanilla version of the game (no plugins necessary). I used Minecraft version 1.7.9.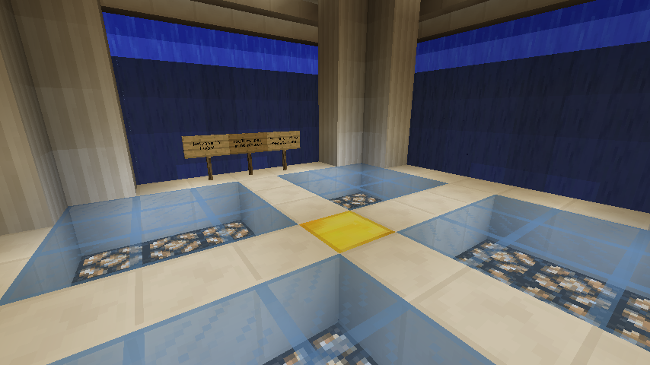 In this mini tutorial, I'm showing off how I created a "Limbo Dimension" that players are sent to after death, where they must remain for 60 minutes before being respawned in the overworld again.
Minecraft Anti-Griefing in Vanilla
This is a trick I picked up somewhere from
/r/Minecraft
that lets you implement anti-griefing on a 100% vanilla Minecraft server.
It requires you to have operator rights on the server, and it involves command blocks. Give yourself a command block by typing the command /give your_name command_block, and place it somewhere in the center of the area you don't want being griefed. I usually will hide it just below the ground, or in a small hidden-away room in the middle of a building or something. Right-click it, and enter this command:
effect @a[m=0,r=36] 4 2 5 true
When activated, this command will apply a status effect to all Survival Mode players (
m=0
), within a radius of 36 blocks from the command block (
r=36
). The effect will be Mining Fatigue (effect ID
4
), level
5
, which will last for
2
seconds. The word "true" at the end will hide the particle effects (supported in Minecraft 1.8+; for older versions, remove the word "true" from the command). See
Status effect on the Minecraft wiki
for details.
Mining Fatigue slows down the player's mining speed by 20% per level, so at level 5 your speed is slowed by 100%. What this basically means is that nobody can break anything while under Mining Fatigue 5. You can't even break a dandelion using a diamond axe. It makes the area completely grief-proof.
Adjust the radius to however large you think you'll need to cover the entire area you want protected. If the area is very large (i.e. so that the command block might end up being unloaded from memory when its chunk goes away), you'll need multiple command blocks positioned around the area to make sure the Mining Fatigue is still in effect.
Anyway, now you just need to hook up the command block to a redstone clock so that it's triggered repeatedly. My favorite is to just use a hopper clock. A comparator clock has too fast of a pulse and the command block will never be executed.
With a hopper clock, just place two hoppers that connect to each other. For example, place a normal block like stone, and then with a hopper, right-click on the side of the stone block so the bottom of the hopper connects to the side. Remove the stone block, go to the side where it used to be, and hold down Shift and right-click the hopper to attach the second one.
Edit for 1.8: It seems the timing has been changed in hoppers on Minecraft 1.8, and a two-hopper clock is "too fast" and won't trigger the command block repeatedly (it will trigger it one time and then never again). Instead of using 2 hoppers that feed into each other, you can use 4 hoppers that feed in a circle, each one connecting to the next one. This slows down the rate that the command block gets executed by 50% but it still works in Minecraft 1.8.
Put a single item into one of the hoppers. If it worked, the item should disappear from the hopper's GUI and then reappear shortly after; the item is being passed back and forth between the hoppers. Now, pick one hopper and put a comparator and then a repeater next to it. Whenever this hopper has the item, the comparator will get a signal and the repeater will amplify it. And there you go. Here's a screenshot of the full setup:
What about creepers and endermen?
Even if you prevent players from destroying blocks manually, they could still lure a creeper in and cause it to explode and damage the nearby blocks. In Minecraft 1.8+ you can select entities by type using command blocks, so you may wanna add some more command blocks to killl any creepers or endermen that get too close (the endermen are optional, but if your build involves a lot of natural blocks like dirt and sand you may wanna keep them away too):
Creepers: kill @e[type=Creeper,r=36]
Endermen: kill @e[type=Enderman,r=36]
You may also be able to do the same for the `PrimedTnt` entity but that may be trickier considering the speed at which TNT can be launched. You'd need a particularly fast redstone clock to keep up.
This is something I've been wanting to program for a while, and I finally have.
It's a Python app that wraps the Minecraft server and makes the server console available over a separate TCP socket (with password authentication, of course).
This allows you to telnet in to this TCP port, provide the password (or a challenge-response hashed version of it), and then you get access to the Minecraft server console. Anything the server outputs is broadcasted to all authenticated clients, and anything the clients send is sent to the Minecraft server. But the real strength in this isn't necessarily just being able to see and type commands into the server console (you can do this at the local shell running the server normally); it's for programs to do this automatically!
For example, you can have a whitelist of users who aren't operators, but you want them to be able to say for example !creative in the server chat window, and have their game mode switched to creative. This is one of the example scripts I included in my project, actually!
And as a more eccentric example, I connected a simple RiveScript bot to this so that it can chat with players using the in-game chat system:
You can get the source code and play around with this yourself at minecraft-control on GitHub!
Copyright © 2017 Noah Petherbridge — All rights reserved
Powered by
Rophako
v0.01 - Hosted by
DigitalOcean
Page generated in 0.108s.