My Blog
SmarterChild and Other AIM Bots
This is Part 1 in a series of blog posts about my adventures programming chatterbots for instant messengers in the early 2000's. In this series of posts, I'll focus on one instant messenger at a time and dive into the interesting quirks and challenges we botmakers faced when programming bots for them.
The order of the posts will roughly start "from the beginning." This is Part One: AOL Instant Messenger.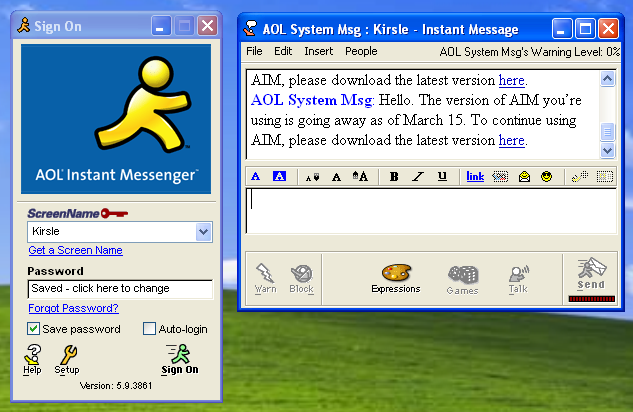 Use Go as a Shell Scripting Language
A very long time ago, I stumbled upon this article "Use Java for Everything". While I disagree that you should use Java for everything (or any programming language, for that matter), the author mentions that he wrote a wrapper script that lets him use Java for shell scripts (ones where you execute the Java source file directly, without the "write, compile, run" steps).
I wanted to do something similar for Go, because I had a very simple Go program I wanted to be able to throw into my .dotfiles repo and run without needing to do too many things first: a simple static HTTP server.
Besides computers and technology, something else I'm really nerdy about is science (like physics, astronomy and quantum mechanics), and something really fascinating that I admittedly don't understand is quantum physics. But I'm not going to talk too much about that on this post; instead this post will consist of more philosophical and theoretical musings related to it and what it might all mean. Some of it is my own; some is inspired by others.
Manually managing a music collection of MP3 files on disk is such a pain in the ass that I felt like blogging about it.
First, you have cloud music services like Google Play Music which can't detect duplicates properly.
A review of Linux desktop environments
The next version of Fedora (24) is coming out soon, so I decided a couple weeks ago that I'd take a tour of all the different desktop environments and see if I like any of them enough to switch from Xfce. My original desktop environment of choice was GNOME 2, and I had jumped ship to Xfce after GNOME 3 was released because I was no fan of the tablet-focused, feature-stripped interface of the new desktop and GNOME 2.32 was, in my opinion, the pinnacle of the desktop metaphor for Linux.
Copyright © 2017 Noah Petherbridge — All rights reserved
Powered by
Rophako
v0.01 - Hosted by
DigitalOcean
Page generated in 0.083s.