My Blog
RiveScript's Original Niche
I wrote this article for the RiveScript Community Wiki, but am reposting it here for visibility.
I've been noticing more and more lately that people are using RiveScript to power Facebook Messenger chatbots, which adds a whole lot of complexity that RiveScript wasn't ready for. This article explains why RiveScript was designed the way that it is, what it's doing to support modern chatbots, and recommendations for how to design a modern chatbot.
On iOS Vulnerabilities
It seems there's a new iOS vulnerability where receiving a certain text message can crash your phone (forcing a reboot), and then lock you out of the Messages app--presumably because attempting to display the offending message will crash the phone again. Also, apparently, you don't even have to read the text message; the notification for the message alone will crash the phone too.
I heard of it from this article on Cult of Mac, and I have various thoughts on the matter (and about iOS vulnerabilities in general and how people handle them once discovered--the long story short is they're handled very poorly).
The article mentions that if you found yourself a victim to this exploit, you can "fix" it by visiting a web page in Mobile Safari which then offers to "Open this page in Messages" and then finds some way to allow safely deleting the text without crashing the phone.
I tried inspecting the source code of the "fix" page with the curl command line HTTP client (because you should never check out a possibly shady web page in your normal browser, as they might try and exploit some zero-day vulnerability in your browser and compromise your computer). But, it seems that the domain the fix was hosted on no longer exists: it gave me some DoubleClick "inquire about this domain" nonsense and tons of advertisements.
Either this is an extraordinary coincidence that the site is down now (given that the article was written today, and presumably the site worked when the author wrote the article), or the site was up to something shady and got reported and terminated by its host/registrar. My guess is that it was basically a jailbreak exploit, as iOS tends to be very locked down compared to Android (for example, no "Intents" system for apps to communicate with each other, and iOS doesn't allow replacing the default Messages app for managing your text messages).
Which brings me to how iOS vulnerabilities are handled in general by the users: very badly. Somebody discovered that they can crash iOS by sending a certain text message to an iPhone user, and instead of doing the responsible thing of privately informing Apple about it and not disclosing it publicly, they make YouTube videos being like "Text your friend these 3 characters and crash their phone! It's hilarious! Fun prank!"
It's not a fun prank. Short of using a shady as fuck web page that probably gains root privileges on the phone in order to fix your Messages app, the other way to fix it would probably be to factory reset the entire phone.
To compare with Android, vulnerabilities get disclosed in vague terms, like "somebody can craft a special audio file and text you it", but with no specific details, and the users are more concerned with updating their OS to patch the problem as soon as possible; rather than being, "I can crash all my friends' phones! I know exactly how to do it because blogs and YouTube videos are telling me how; and I'll use it to 'prank' as many of my friends as I can before Apple can fix it!"
One reason I'm glad not to be an iPhone user. I'd have to unfriend people IRL if they intentionally abused such a dangerous exploit against me.
It's been on my to-do list for a while, and I've finally begun the process of rearranging my personal servers.
I've always treated my personal servers like pets rather than cattle, usually only having a single server hosted somewhere that runs all of my things. Most recently this took the form of a single Digital Ocean VPS that I named ocean.kirsle.net and that costs $40/mo. for 4GB RAM, and it ran all sorts of things:
All my websites including kirsle.net and a lot of legacy sites that don't even point to my server anymore but that I still had the document roots for.
Various random PHP apps, and a Git server, and other random nonsense.
My Minecraft survival server.
My self-hosted e-mail.
My XMPP chat server (until the server wouldn't start after a reboot one day).
My OpenVPN server (until that stopped working one day and couldn't be fixed due to the kernel not creating the /dev/tap device).
All sorts of random cruft on the filesystem, like custom-built local versions of Perl, Python 3.4 and Git.
The various sources of pressure that got me to finally start doing something about this include:
The OpenVPN server was unfixable and I'd need to start from scratch with a new VPS to re-implement it properly.
Digital Ocean added a Block Storage feature where you can attach a separately-growable disk to your VPS, but those are only available in certain datacenters so far. ocean.kirsle.net was hosted in SFO-1 but Block Storage was only available in SFO-2, so I wanted to eventually migrate to one of the data centers that supports this feature.
It took me all day long to configure my self-hosted e-mail, and I didn't wanna do that again too soon. First I tried setting up a brand new mail.kirsle.net VPS so that I'd only have to configure mail one more time, but it wasn't going very well so I decided to go back to Google Apps for my e-mail. I still have a grandfathered free account there, anyway.
So, now I have a new server named web.kirsle.net that's only $10 for 1GB RAM and it hosts all my simple websites, including this one! It took about four hours to migrate all my websites over, and in the process I also stopped hosting many random things. Like I don't use Piwik Analytics anymore (a PHP app), nor do I host a Git server now. The new server is so much lighter than the old one for it. I don't even have PHP installed, or Apache either.
My Minecraft server will be moved to its own VPS shortly, before I finish decommissioning ocean.kirsle.net. I'll eventually add more servers when I need to in the future too, e.g. to have a dedicated server for databases.
I've made a few updates to how my web blog handles user comments:
Anonymous users on the Internet are now able to edit or delete their own comments for 2 hours after posting them (this is cookie-based).
All e-mails sent from this site are now formatted in HTML and will render Markdown text, so if you subscribe to a comment thread you can see the future comments rendered out as HTML in your email client.
I added a "Quick Delete" function for me, so that when a spam bot posts spam I can click one link in my e-mail that instantly deletes the comment without me needing to log in or do anything.
The gory technical details are in the pull request.
SmarterChild and Other AIM Bots
This is Part 1 in a series of blog posts about my adventures programming chatterbots for instant messengers in the early 2000's. In this series of posts, I'll focus on one instant messenger at a time and dive into the interesting quirks and challenges we botmakers faced when programming bots for them.
The order of the posts will roughly start "from the beginning." This is Part One: AOL Instant Messenger.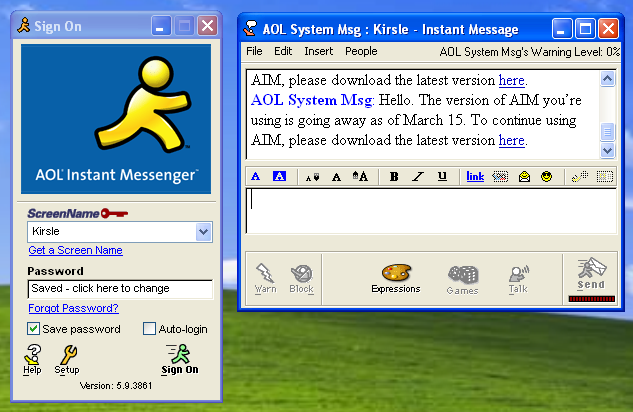 Copyright © 2017 Noah Petherbridge — All rights reserved
Powered by
Rophako
v0.01 - Hosted by
DigitalOcean
Page generated in 0.140s.